page # 3. DOCUMENTARY & NEW C D
ONE AMONG THOUSANDS
One Among Thousands is a seventy-seven minute HD documentary of the long journey of Victor Alvarez, a gifted Cuban musician who left Havana, Cuba at the age of 13. Forty years later, Victor returns home, now and outsider, to explore his old world of Cuban street music.
Dear Friends
Thank you so much for your interest and support!!!  I will keep you posted of screening dates in Santa Fe. The documentary is scheduled to compete in 4 festivals in Cuba and 5 in the US. Thank you again for your warmth, support and ever needed encoragement – Victor
To order your DVD copy of this documentary:
Like us on face book site: www.facebook.com/oneamongthousands
VICTOR IN WASHINGTON DC
Victor visited the Cuban Interest Section in Washington DC on February 26th  for a screening of the One Among Thousands documentary for Cuban diplomats. The following was published:
A Cuban-American musician traveled to Washington, D.C., for the screening of a documentary that traces his 2010 return to Cuba after 43 years. The documentary is called one among thousands. It features Victor Alvarez, a musician who left Cuba as a teen-ager and returns to search for old friends and relatives.
The screening took place Feb. 26 at the Cuban Interests Section in Washington, D.C. Cuban expats laughed, clapped and some of them – including Alvarez – shed a few tears. After the screening, Cuban diplomats offered roast pork, mojitos and rum to their guests. Carlos Maier of Roadhouse Vintage Pictures directed the film.
PHOTOS OF VICTOR'S TRIP TO CUBA!
Check out this video montage of the Victor's trip back to his former home of La Havana, Cuba. Many of the photos are behind-the-scenes of the making of new documentary of Victor's first trip back home in forty years: One Among Thousands
A New Album by Victor Alvarez with Savor
3 Phases of a Cuban Musician is the newest album from Victor Alvarez and features classic cuts from his Latin big band days, songs by the beloved Savor acoustic trio and new recordings of traditional Cuban Son, Boleros and renditions of Ernesto Lequona as performed today by SAVOR for shows and dancing.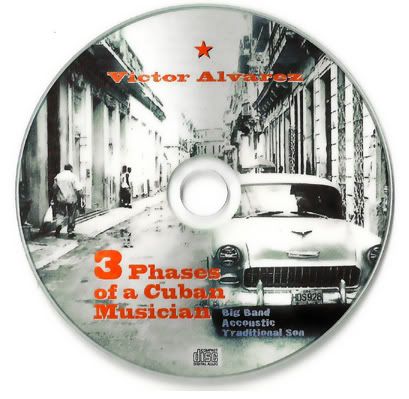 You can order a copy at the link below:
TO CUBA AND BACK
Hola Amigos! Got back from 
Cuba
on 7/30.  I can't tell you enough how it felt to be in Habana Vieja, the place where I was born and grew up.  Cuba and the people are as beautiful as I remembered.  Musically, it was truly awesome.  I played with many bands and the highlight was with street musicians that are still playing most of the same tunes that I remember from back when and we play now.  Yes, I swam in the Habana Bay (the Malecon) just as I did in my youth – it was almost a re-baptism.  The ten days that I was there flew by.  The 
film director
was very pleased with all the filming and the jamming, including the shots of me swimming in my "floss bikini." The film goes to post production now and I'll keep you posted on the progress!
This was not only Ernest Hemingway's hangout, but also Victor's daycare center, school and second home. From the musicians playing at the bar, Victor learned the tricks of playing guitar and drinking rum at an early age.
43 years later there is still street musicians everywhere in Habana streets just as in the "old days"
Having fun jamming with a local trio, now inside la Bodeguita del Medio
THANK YOU TO ALL OUR FRIENDS
Thank you for coming by and supporting us. It's always a pleasure to share our music with you.
¡Para y por mi Habana!