SAVOR Cuban Street Music Band
Victor Alvarez
VICTOR ALVAREZ is the founder and leader of the Savor Cuban Street Music band, now based in Santa Fe, New Mexico. Cuban born, award-winning mandolinist and guitarist, Victor has traveled the world with his salsa orchestra La Express. Victor sings and plays mandolin as a

Cuban laud

and also plays guitar with his group Savor, performing from a duet to a six piece ensemble. They specialize in bringing a festive and eclectic atmosphere that is filled with lively rhythms and energetic music as in the streets of Havana – they will make you feel like dancing.
FOR BOOKINGS, PLEASE CONTACT:
VICKY SPEER AT ABSOLUTE ENTERTAINMENT
(505) 986-5882
email: vspeer@musicsantafe.com
To Contact Victor:
(505) 692-4550
e-mail victor: victor1@newmexico.com
PERFORMING HERE 0N: _____________________________________________
_
"One Among Thousands" Documentary
ONE AMONG THOUSANDS
One Among Thousands is a seventy-seven minute HD documentary of the long journey of Victor Alvarez, a gifted Cuban musician who left Havana, Cuba at the age of 13. Forty years later, Victor returns home, now and outsider, to explore his old world of Cuba; relatives, childhood friends and the root of his music.
click below link
 "One Among Thousands" documentary link
to see
trailer
of documentary
     Some of Victor's Songs
                       Sandramora – Salsa ( 6 piece group)
Donde Estabas Tu – Cuban Son (4 piece group) 
Siboney – Danson (Lequona) con Eliades
Percussion Solo (live)
Pachanga in Merengue (live)
Media Vuelta  – Bolero (4 piece group)
Mora – Cuban Son – (live)
Dos Gardenias – Bolero (4 piece group)
Crazy Conga Solo (live)
   La Comparsita – Lequona (4 piece group)
Sabor a Mi – Bolero (5 piece group)
A New CD Album by Victor Alvarez with Savor
3 Phases of a Cuban Musician is the newest album from Victor Alvarez and features classic cuts from his Latin big band days, songs by the beloved Savor acoustic trio and new recordings of traditional Cuban Son, Boleros and renditions of Ernesto Lequona as performed today by SAVOR for shows and dancing.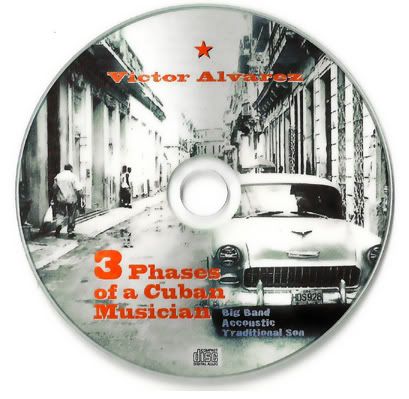 UPCOMING PERFORMANCES
Fidel Says:  "Go See Savor Perform"
La Posada de Santa Fe
EVERY THURSDAY, FRIDAY AND SATURDAY 6:00 to 9:00 PM. thru' August 2021
TO CUBA AND BACK
Hola Amigos! Got back from 
Cuba
on 7/30.  I can't tell you enough how it felt to be in Habana Vieja, the place where I was born and grew up.  Cuba and the people are as beautiful as I remembered.  Musically, it was truly awesome.  I played with many bands and the highlight was with street musicians that are still playing most of the same tunes that I remember from back when and we play now.  Yes, I swam in the Habana Bay (the Malecon) just as I did in my youth – it was almost a re-baptism.
Playing with Street Musicians Like in Victor's Childhood
VICTOR IN WASHINGTON DC
Victor visited the Cuban Interest Section in Washington DC on February 26th  for a screening of the One Among Thousands documentary for Cuban diplomats. The following was published:
A Cuban-American musician traveled to Washington, D.C., for the screening of a documentary that traces his return to Cuba after 43 years. The documentary is called one among thousands. It features Victor Alvarez, a musician who left Cuba as a teen-ager and returns to search for old friends and relatives.
The screening took place Feb. 26 at the Cuban Interests Section in Washington, D.C. Cuban expats laughed, clapped and some of them – including Alvarez – shed a few tears. After the screening, Cuban diplomats offered roast pork, mojitos and rum to their guests. Carlos Maier of Roadhouse Vintage Pictures directed the film.
THANK YOU TO ALL OUR FRIENDS
¡Para y por mi Habana!
Ayer – Yesterday
Thank You
Thank You
Thank you!!
El Vic
!para y por mi Havana!